All Black Sevens beaten in Dubai final
by Travis Berry
in Sports
— Dec 3, 2017
England Sevens head coach Simon Amor hailed his side's achievement in finishing third in Dubai in the opening leg of the HSBC World Sevens Series.
Earlier, South Africa faced their sternest test of the tournament against 2015 Dubai winners Fiji in the semi-final.
Tries from Andrew Knewstubb and Scott Curry brought New Zealand back into the match in the second period.
Two tries in the second half for Kenya settled the hugely physical tie as Shujaa rose to second in Pool A on seven points, two behind series champions South Africa.
England had opened the day with victory over Australia through Glover's try with the final play of the game, though the rub of the green eluded them in the 14-5 defeat to New Zealand.
"As a first tournament for us this season I'm really proud of the continuous effort and the attitude the boys displayed in every single game", said Amor.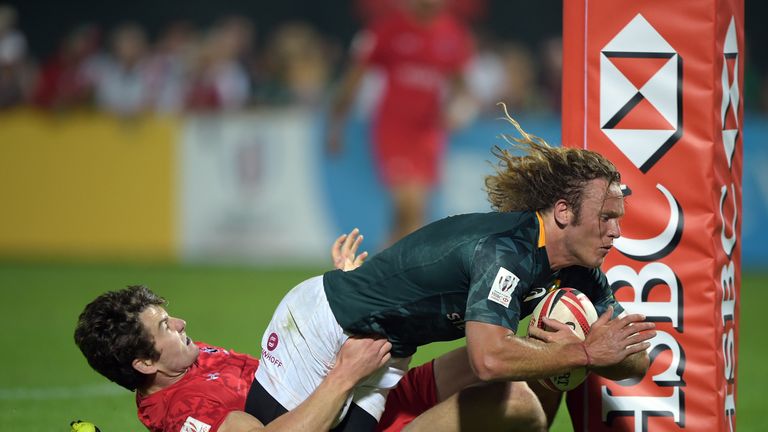 South Africa's Werner Kok crosses for a try against Canada
"It was the first tournament of the year so there were a lot of mistakes and lots we can work on as we turn our attention to Cape Town next week".
Smith was named player of the final for his hard-working efforts but he was quick to pass the praise on to his teammates.
"We had a long pre-season and a few of the guys were involved in 15-man rugby and we have been saying that it's a 'brand new team with some familiar faces'".
"We want to focus on our processes and it we leave the result and result doesn't go our way then we're still happy".
After beating England 14-7 in the semi's, New Zealand set up a final against the Blitzboks.
On day one, on Friday, the BlitzBoks shook off the rust from the off-season by getting the better of Uganda, Kenya and Canada, none of whom ever came close to really troubling the defending champions, and now are the hot favourites to again go all the way and take the title.